Wedding invitation designs are different, but what are the key things to consider before you make a decision? We'll break down the different types of invitations, how to decide which one is right for you, and we'll even show you examples of some of our favorite wedding invitation designs.
1. Types of Wedding Invitation
There are primarily 2 types or formats of wedding Invitations
1. Print / Paper Wedding Invitation : Print invitations are the more traditional option and are typically made with high-quality paper. They can be customized with different fonts, colors, and designs. There are several reasons why you might choose to go with a paper wedding invitation.
For one, print invitations are the more traditional option and are typically made with high-quality paper. This gives your invitations a classic look that will impress your guests. You can also add special touches like embossing or gold foil to make them even more unique.
2. Digital Wedding Invitations: They are becoming increasingly popular because they offer a number of advantages over traditional paper invitations. They're more convenient because they can be sent electronically to guests, which saves time and effort.
They're often less expensive than paper invitations, since there's no need to print and mail them. And they can include all the same information as a print invitation, such as the date, time, and location of the wedding.
2. Types of Digital Invitations
There are primarily 3 kinds of Digital Invitations. Lets go through them one by one
1. Image Based Wedding Invitations: As the name suggests, these invitations are single image based invites. You select a design you like, fill in the required information ( like Name of the Bride and Groom, event detail etc.), and that's it. Following are a few example of Image Based Invites, which we got from Canva
2. Wedding Invitation Videos: This format of wedding invitations has been hugely popular in the past 5-7 years. There are unlimited options in terms designs. Be it a highly personalised invitation video with your photos, or a caricature avatar of your, the possibilities are limitless.
As with everything else, we have some samples for you for Wedding Invitation Designs and their Videos too
3. Interactive Web Invitations: These Digital Invitations are rather new, but are taking the invitation space by storm. When people starting transitioning to Digital Invitations, they started with Websites. The problem with website invitation was, they were extremely basic. Bride and Groom couldn't really personalise them, and were hugely limited by animation and design options.
Hence, the era of Wedding Invitations Websites was short lived. Those who wanted Digital Invitations transition to Video invites. Well up until now. The era of sending invitations through Web is catching up once again, and with a vengence.
Wedding Invitation on Web are now as customisable as a video ( they really are, all the animations and transitions which were exclusive to videos, can now be achieved on Web too). And where Interactive Web Invites one up the video invitations are their ability be "interactive"
Add a Venue Location Button on the invite, or a calendar reminder button for your guests, all this can be done within the invite itself. You don't need to send a separate RSVP, even this can be integrated within the invitation itself.
So enough of talking for now, let us show you and demonstrate some Interactive Web Invites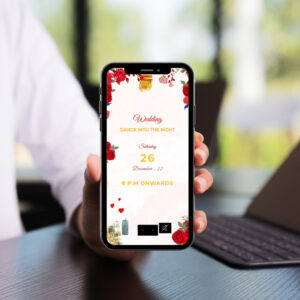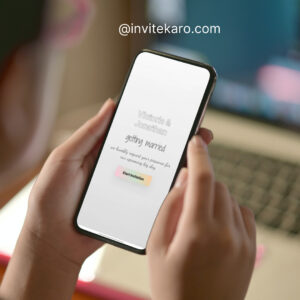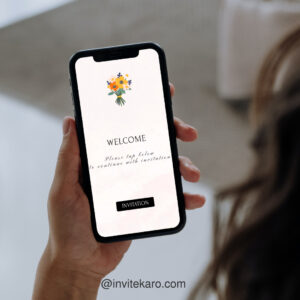 3. What are the Different Styles of Wedding Invitation Designs?
1. Traditional Wedding Invitation Designs: Traditional wedding Invitation Designs are usually white or ivory, with formal language and a conservative design. If you're having a formal wedding, traditional invitations are a great choice.
2. Contemporary Invitation Designs: Contemporary wedding Invitation Designs are often more modern in style, with simple designs and clean lines. If you're having a less formal wedding, contemporary invitations may be a better fit.
3. Rustic Wedding Invitation Designs: Rustic wedding Invitation Designs often feature natural elements like wood or burlap, and they have a more casual feel than other types of invitations. If you're having an outdoor or country-themed wedding, rustic invitations would be a good choice.
4. Vintage Wedding Invitation Designs: Vintage wedding Invitation Designs are perfect for couples who want a classic look for their wedding stationery. There are many different styles of vintage invitations to choose from, so you can find something that fits your overall wedding theme.
For a more visual reference of different Wedding Invitation Designs, you may refer to the designs below
4. What Colors and Theme Do I Choose?
When it comes to choosing colors and a theme from a wide variety of wedding invitation designs, there are a few things to keep in mind. First, think about the overall tone and feel of your wedding. Are you going for something formal and elegant? Or are you planning a more laid-back, fun affair? This will help guide you in choosing the right colors and theme for your invitation.
Next, take a look at your wedding color palette. What colors will you be using throughout the day? You want your invitation to complement the overall aesthetic of your wedding, so choose colors that will fit in nicely.
Finally, think about the message you want to convey with your invitation. Are you looking for something traditional and classic? Or are you wanting something a little more unique and stylish? Once you have a good idea of what you're looking for, it'll be much easier to choose the right invitation for your style.
5. How to Decide Which Wedding Invitation is Right for Me
When it comes to wedding invitations, there are nearly endless possibilities. How do you know which one is right for your big day? Here are a few things to consider that will help you choose the perfect wedding invitation for your style:
1. First and foremost, you'll want to match your wedding invitation to the overall style of your wedding. If you're having a formal affair, you'll want to choose an elegant invitation with traditional fonts. For a more casual event, you may want something playful or whimsical.
2. Now that you know what style of invitation you want, it's time to decide on the details. Do you want a printed invitation that you can send through the mail, or would you prefer a digital invitation that you can email / IM to your guests? If you choose a printed invitation, you'll need to decide on the paper stock and printing method. If you choose a digital invitation, you'll need to decide on the design and whether or not you want to include animation or other special effects.
3. Another important factor to consider is the budget. Wedding invitations can range from very simple (and affordable) to extremely elaborate (and expensive). It's important to find something that fits within your budget so that you don't end up overspending on this part of the wedding planning process.
4. Finally, don't forget to think about who will be receiving your invitations. The more personalised your invitation is ( e.g Name of the guests on the invitation), the more your guests would feel welcomed
6. Conclusion
Choosing the right wedding invitation can be a daunting task, but it doesn't have to be. With so many styles and options available, it's important to narrow down your choices and find the perfect invitations for your big day. We hope our tips have helped you choose the right wedding invitation for your style and budget. Now it's time to get started on those save-the-dates!