Wedding invitations are one of the most important parts of a beautiful wedding. These days, the new trend is to turn to Wedding E-Invites, also known as Wedding digital invitations. You can make wedding cards online in the form of multiple images, PDFs or videos and add your own personal touch to them by changing fonts, colours and text. With Wedding E-Invites, you can have infinitely more time to customise and personalise your wedding invitation. You can play around with different fonts, designs and colours to get the perfect invite for you and your partner.
If you're unfamiliar with e-invites, they are a digital invitation to your wedding. They can be sent out as an email or text message and are found in many colors, shapes, and sizes. You don't need to wait for the RSVPs to come back from you guest because you know exactly who will be coming.
E-invites eliminate postage costs that would have been incurred through traditional invitation materials like envelopes, stamps, and paper. It also eliminates wasted materials like stamps, envelopes, and paper which is good for the environment as well. Other advantages include that you can use different colors than what would typically be found on traditional invitations which helps give a more personal feel to the invitation.
There are two ways in which you can create a Wedding e-invites on Invitekaro.
Invitekaro App

Through the Invitekaro App. You can download the app from here . Our app uses state of the art tech, which has come from years of our experience with data and design, to help you create an invitation in real-time. Some of the things you can do on the app are
You can choose from one of the hundreds of templates
You can add an opening scene to that template
You can add animated stickers to your card
You can add your own photo or video to the card
You can add a background music to the card
You can mix your sound from video with the sound of background
You can customize text on card from thousands of combinations
Finally, after you are done, you can preview the card you created in real time.
You can bookmark all your customisations as favourites.
Below is a sample of few such cards, which have been made completely on the App.
You can refer to video below to see more details about Invitekaro Wedding e-invites through App
2. Invitekaro Website
If you are looking for a more premium invite, with more hands off approach, we have you covered on our website https://collections.invitekaro.com
Browse through hundreds of designs on our website, and choose anyone you like
Raise a request either by adding your card to the cart, or by contacting us directly through WhatsApp or phone. Contact option is embedded within each page so that you can reach us easily
Our sales and design team will understand the exact requirement from you, and deliver a digital invitation within 2-5 business days.
Few examples of our premium cards are shown below
You can purchase a printed copy of your Wedding E-Invites and have it mailed by the service provider. Some will even allow you to send a printed copy to another address so that your friend or family member can RSVP with a physical card in hand.
You can get started by researching the type of Wedding E-Invites that you would like to use. You can start with a popular style, or you can customize your own invites. You will then have to create an account with an e-invite site and select the template that you would like to use. From there, all you have to do is fill in the information for your guests and send them out! The first step I would suggest is to find a company that can help you get started and offer templates for different styles. There are many sources for templates and companies that offer design services.
The main advantage of Wedding E-Invites is the convenience it offers and the cost saving. Invites can be sent to many people in a short amount of time without the need for being there in person. The disadvantage is that some guests might feel like they are not wanted if they receive an E-invite.
A really good Wedding E-Invites will have an easy to understand message on it. It should also be interesting and visually appealing. If possible, the design should reflect your personality. When in doubt, you can look at some of the best e-invites that are available online as an example.
Finding the perfect template for your e-invite can be a difficult task, but there are many websites that have a variety of templates to choose from. The easiest way to find the right template is to search online or go through wedding blogs for inspiration. If you know the design style you're looking for, this will help limit the number of templates you need to look through. Once you've found a style that you like, it's time to customize! You'll want to make sure and change things like text fonts and colors so that it matches your event. The last step is sending out invitations via email.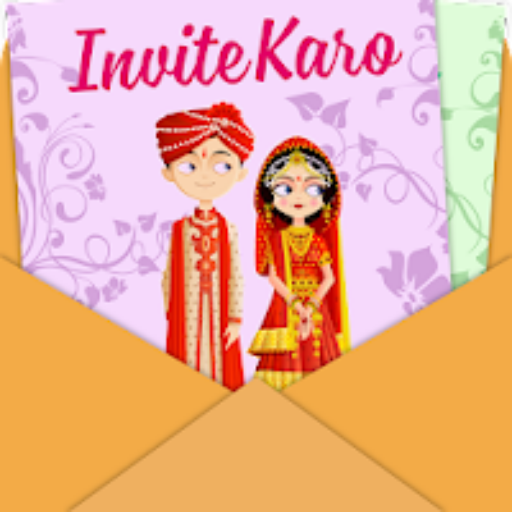 Thank you for visiting Invitekaro. We hope we made just one decision a bit easier for you.
Check our a quick tutorial and overview of InviteKaro Wedding e-invites here